I am honored and humbled to be endorsed by these organizations. Thank you for your support. I wont let you down.
Edward Doyle, President
Building and Construction Trades Council of Westchester and Putnam Counties, New York
---
"
"We appreciate your commitment to work with organized labor and assist us in our endeavor to protect the rights of the men and women who work in the construction industry. I am pleased to announce that the Executive Board of the Westchester Putnam Building Trades Political Action Committee has officially chosen to endorse you in your upcoming election."
Pat Cullen, President
---
"
"Your dedication to helping others is evident in your lengthy and accomplished career. Our members respect your experience and support as a member of the New York State Courts family. We join in your belief that the community benefits most from an approach of firm fairness and equity. We support that, in full acknowledgement of the enthusiasm you will bring to the bench,and of course the Town of Mount Pleasant. Your ardor for duty and service is manifest throughout your life and career and that makes the Association proud to endorse you for election as Town Justice in Mount Pleasant."
Mount Pleasant Democratic Committee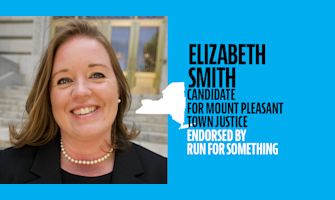 Run for Something
---
"
On behalf of our membership, the Up2Us Board of Directors is proud to announce our endorsement of Elizabeth Smith for Mount Pleasant Town Justice in the 2019 election. Smith has been practicing law for 15 years, 12 in Yonkers City Court which is the highest volume court in the Ninth Judicial District (Westchester, Rockland, Putnam, Orange and Dutchess. She has written well over 2,000 decisions in various areas of law in Yonkers City Court; assists judges with research, trials and fact findings; and has successfully conferenced and settled hundreds of cases. Smith lives in Hawthorne with her husband and four sons, and is deeply rooted in the community. She teaches religious education and serves on her Parish Council. She is the former Secretary and current First Vice President and Trustee of her union and the Librarian of her chapter of Daughters of the American Revolution. She is a District Leader and former Secretary to the Mount Pleasant Democratic Committee and a member of Indivisible Pleasantville. Smith's work in the court and the community is completely in line with our values of service, civil rights, equality, and protecting our rights and resources. We are thrilled to put our full support behind Elizabeth Smith for Mount Pleasant Town Justice. We encourage our members to visit http://www.electelizabethsmith.com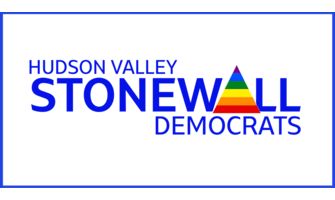 ---
"
"We feel you are a candidate that will help protect LGBTQ rights and promote inclusion and diversity."
Brette McSweeney, President
Eleanor's Legacy
---
"
"Local office is the building block of our democracy. At a time when voters are looking for leaders with integrity and commitment to their communities, who we elect to lead our villages, towns , cities and counties matters more than ever. As Mrs. Roosevelt said 'It's up to the women'."
---
"
"Our 2019 Champions across the country are committed to solving big problems affecting their communities," said Marissa Barrow, a spokesperson for the Progressive Change Campaign Committee. "Selected for their bold vision, these candidates are highly capable leaders ready to make change." "The candidates on our Champions List are running great campaigns powered by grassroots, not corporate interests," said Stephanie Taylor, co-founder of the Progressive Change Campaign Committee. "We're proud to support them as they take power back for their communities and turn big ideas into action for working families." https://www.boldprogressives.org/2019-champions/